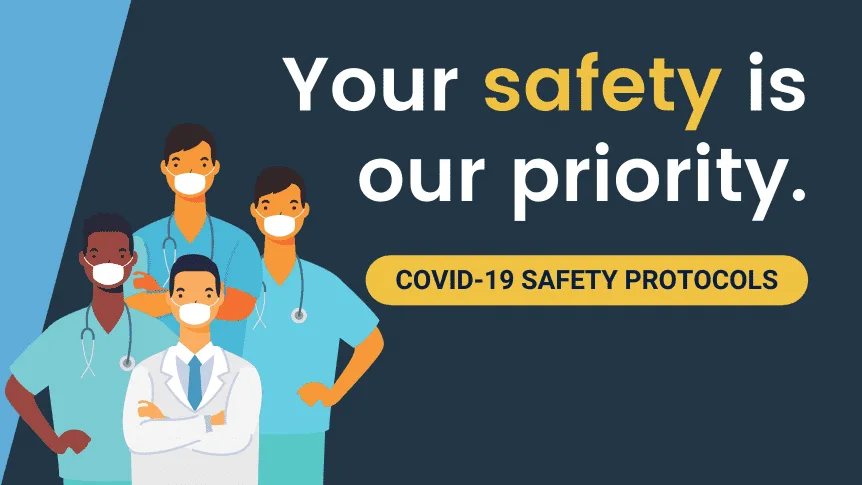 We're Still Providing Addiction Treatment During COVID-19
Addiction and overdose deaths have only increased during the Coronavirus pandemic. That's why Riverwalk Ranch Drug & Alcohol Rehab Center remains open and committed to helping individuals at risk on the path to recovery. In order to protect those we serve, we are faithfully adhering to health and safety recommendations from the Centers for Disease Control (CDC) and the World Health Organization (WHO).
We have adopted various hygiene and safety measures at our facilities, including regular testing of our residents and staff, to protect our patients from Coronavirus.
Safety Protocols Designed to Keep You Safe
Admissions screening
Prior to being admitted to Riverwalk Ranch, individuals are screened to determine potential exposure or contact to someone diagnosed with Covid-19, recent travel history particularly if it involves travel to high-risk areas, and symptoms of illness. Screening also includes Coronavirus testing. Those who do not pass this screening are not eligible to be admitted for treatment.
Patients who have passed the admissions screening can request an escort for door-to-door transfer to the facility for treatment. Escorts are provided with personal protective equipment (PPE) and can help ensure safe transfer to Riverwalk Ranch.
Regular safety monitoring at the facilities
In order to maintain a safe and healthy environment, we have implemented a series of safeguards at our facilities which are routinely monitored by an oversight committee. These measures include:
Regular Coronavirus testing of staff and patients
Mask requirements and regular PPE-wearing at the facility
Regular sanitization of the facility
Established isolation protocols in the event of exposure
Social distancing
The oversight committee at Riverwalk Ranch is responsible for ensuring that the established protocols are being adhered to. Plans are in place to respond in the event of staff or employee exposure to the virus in order to protect others at the facility.
Staff accountability
In order to ensure that our facilities remain Coronavirus-free, staff who have come into contact with an infected person or who have traveled are held accountable for following CDC recommendations and self-isolating for 14 days prior to returning to work.
Hygiene and sanitation at the facility
The facilities at Riverwalk Ranch are regularly deep cleaned and sanitized to ensure that surfaces and common areas remain safe for all. Hand sanitizer is provided and patients and staff are encouraged to practice regular hand-washing and maintain social distance that involves skin-to-skin contact.
Covid-related mental health treatment
The Coronavirus pandemic poses unique mental health challenges that can exacerbate substance abuse and addiction. Our therapists have been trained to address the stress and anxiety of the pandemic as well as the depression and loneliness brought on by continued isolation.
Adjusted services
To limit contact with those who may be infected, family and other outside visits have been suspended for the time being. Contact with those outside the facility is possible via teleconferencing. We are also offering telehealth services to our outpatient population.
Some amenities at the facilities may not be available such as massage, pools, saunas, acupuncture and other treatments. Our admissions representatives can give you updated information on any restrictions.
FAQ: Everything you need to know about Coronavirus and addiction treatment
Is addiction treatment considered an essential activity?
In the event of state or city restrictions on movement, treatment for addiction is considered essential and an exception to stay-at-home orders. You are always allowed to leave your home to receive essential treatment for addiction and substance abuse.
Should I wait until after the pandemic is over to seek treatment for my addiction?
Addiction hasn't stopped because of Coronavirus, and neither should treatment. In addition to daily stressors that may be contributing to your addiction, elements of the pandemic including the isolation may also put you at greater risk. We are taking measures to keep our patients healthy and safe during the pandemic so they can get the treatment they need.
Is inpatient treatment at Riverwalk Ranch safe?
We are making every effort to adhere to CDC and WHO guidelines under the supervision of our in-house medical professionals in order to keep our patients and staff healthy. We practice rigorous screening for admission, regular testing for our patients and staff, and sanitation of the facilities. In addition, we have isolation protocols in place to limit spread in the event of exposure.
Are patients admitted if they come from high-risk areas?
Our admissions screening process prevents the admission of anyone who lives or may have recently traveled to a high-risk area in order to protect existing patients at the facility. Additionally, a negative test is required for admission.
What is being done to protect patients at Riverwalk Ranch?
Good health is an important component of recovery, so we are committed to keeping our patients safe from Coronavirus under the supervision of our medical staff. These are just some of the protocols in place at our facilities:
Screening and testing of new patients
Monitoring residents and staff for symptoms of illness
Regular deep cleaning of the facility
Isolation protocols to limit exposure
Providing telehealth outpatient services
Limiting visitors and high-risk activities
Practicing social distancing
Will my family be able to come visit me at the facility?
In-person visits are temporarily suspended in order to prevent exposure with those outside Riverwalk Ranch who may be infected. However, you can communicate with family by phone or video chat.
I'm worried about unemployment during the pandemic. Can seeking treatment cause me to lose my job?
Addiction treatment is protected by law as a necessary medical intervention. You are legally protected from losing your job for seeking medical treatment. Rehab can help you improve your focus and performance when you return to work, which can help you secure employment in the long-term.
Protect yourself and your loved ones
The CDC recommends taking regular precautions to reduce the possibility of contracting or spreading respiratory illnesses like Covid-19. These recommendations include:
Regular hand washing or use of hand sanitizer
Avoiding unnecessary contact with those outside your home
Limiting handshakes, hugs, and kisses with those outside your home
Staying home if you are feeling sick
Getting tested for Coronavirus if you've traveled or may have been exposed to someone diagnosed with the virus
Covering your mouth and nose when you're in contact with others in the community
Cleaning and disinfecting surfaces and objects in your home or car
As the epidemiological situation continues to evolve, we may amend, relax, or toughen measures at the facility as recommended by health authorities. Nonetheless, we remain open and committed to providing the highest level of addiction treatment.
Riverwalk Ranch offers an ideal treatment environment.
Get the help you need.
Contact us for a confidential consultation.